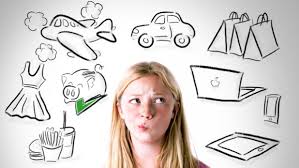 Adolescence is the time when an individual shifts from being a child to being an adult, ready to take on responsibilities, and face the challenges of the real world. At the same time, adolescence is also the time for having fun and treating life in probably the most relaxed way ever, which does not automatically mean irresponsibility. Though many adults believe American teenagers spend money mostly on entertainment, research shows this is not true.
Surprisingly, American teenagers spend much less money on video games or concerts as it is usually considered. According to a semiannual report issued by Piper Jaffray in April 2014, the major part of teenagers' expenditures goes to food (Business Insider). Indeed, as the graph from the report shows, American teenagers eagerly spend about 21% of their money on food, mostly at Starbucks.
The latter fact seems to be somehow connected to the new trend in U.S. teenage culture, which is hanging out in restaurants rather than in malls. For example, in 2014, American teenagers visited malls on average 29 times, compared to 38 times in 2007. As the report propounds, "Restaurants have become a gathering place and teens are increasingly suggesting they prefer dining out to other forms of status brand spending. We see restaurants as the next generation hang out for teens." The supposed mall culture seems to be waning in favor of more class (Quartz).
Along with food, American teens spend approximately equal amounts of money on clothes. Mostly, they give preference to athletic wear rather than denim apparel. Teenagers in the U.S. seem to be preferring the "athleisure"—clothing which can be worn both inside and outside of gyms. Athleisure preferred in 2014 is manufactured by such brands as Adidas, Lululemon, Juicy Couture, Athleta, and some others (Business Insider).
Try our online assignment planner!
It will guide you step-by-step through the process of finishing your assignments without stress, while also managing your time.
Assignment breakdown
into parts and deadlines

Useful assignment tips with
references and guidelines
Custom reminders to finish
the assignment in time
Other expenditures are more or less divided between cars, shoes, gadgets, events and entertainment, and healthcare. Thus, American teens are reported to spend about 10% of their money on personal care, 8% on cars and gadgets respectively, about 7% on video games, and 6% on music, movies, and events such as concerts, respectively. However, the amount of money young people spend on books and magazines is dramatically low: just about 2% of the money they possess (Piper Jaffray).
The mentioned report gives reasons to assume American teenagers in 2014 pay a lot of attention to their status and fashion, which is illustrated by their choices of places for hanging out (restaurants instead of malls), and their striving to follow fashion trends. At the same time, teenagers seem to pay little attention to their intellectual development, as they spend comparatively little money on books, movies (which can also be contributing to personal growth), and magazines. In the age of the Internet, this cannot be the only criteria to make such conclusions, but it still makes a contrast with what is important and trendy in American teenage culture: status and fashion.
References
Piper Jaffray. N.p., n.d. Web. 18 Sept. 2014. .
Peterson, Hayley. "Everything You Need to Know about How Teens are Spending Money, What They Like, And Where They Shop." Business Insider. Business Insider, Inc, 09 Apr. 2014. Web. 18 Sept. 2014.
"American Teens Don't Hang Out at Malls Anymore. They Eat at Restaurants." Quartz. N.p., n.d. Web. 18 Sept. 2014.
Follow us on Reddit for more insights and updates.
Related Writing Guides
There are three main types of expository essays: scholarly writing used mainly for academic purposes, which describes or examines a process in a comprehensive way; analyzing a concept, which describes and explores a written work or an event; also, exposi...