Rock legend Sammy Hagar, alongside renowned musicians Michael Anthony, Jason Bonham, and Joe Satriani, is set to electrify stages with the 'The Best Of All Worlds' 2024 tour. This news, originally reported by Blabbermouth, highlights an epic collaboration of rock icons, promising an unforgettable musical journey for fans.
JOIN OUR LEARNING HUB
One-stop solution for all your homework needs. Get the job done.

✅ AI Essay Writer ✅ AI Detector ✅ Plagiarism checker ✅ Paraphraser
Hagar and his powerhouse band, including bassist and vocalist Michael Anthony, drummer Jason Bonham, and the newly announced guitar virtuoso Joe Satriani, are gearing up for a 28-city tour. Kicking off on July 13 in West Palm Beach, Florida, and wrapping up on August 31 in St. Louis, Missouri, this tour is shaping up to be a monumental event in rock music. The tour is produced by Live Nation, and special guests LOVERBOY will be joining the ensemble, adding to the excitement.
Ticket sales for this much-anticipated tour begin with pre-sales on November 15 and general sales starting November 17. Fans are encouraged to visit RedRocker.com for more information and to secure their spots at these must-see shows.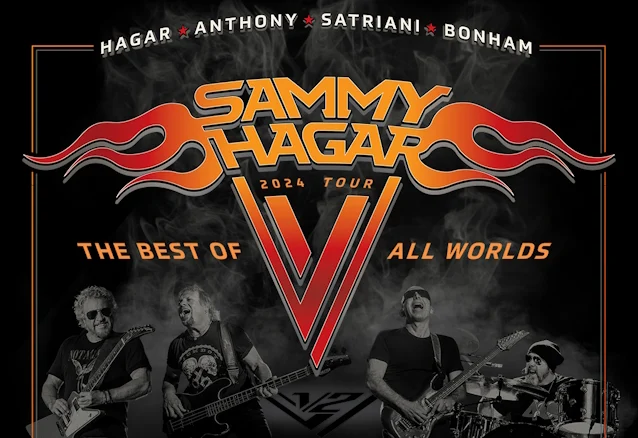 Reflecting on the tour, Hagar expressed his enthusiasm and nostalgia, especially about reuniting with former VAN HALEN bandmate Michael Anthony. He highlighted the significance of this tour, marking nearly two decades since they last performed VAN HALEN songs together. With Satriani joining the group, the band plans to explore a broader range of Hagar's career, promising a setlist packed with hits and fan favorites.
This tour follows the success of "The Collection II", a box set featuring remastered versions of VAN HALEN's chart-topping albums from the Hagar era. The setlist is expected to draw from this rich catalog, including anthems like "Finish What Ya Started", "5150", and "Right Now", among others. The addition of Australian musician Rai Thistlethwayte on keyboards and backing vocals further elevates the band's dynamic.
For rock enthusiasts, 'The Best Of All Worlds' tour is not just a concert series; it's a celebration of rock history, bringing together some of the genre's most iconic figures for a series of unforgettable performances. The tour promises to be a showcase of talent, energy, and the enduring power of rock music.
Talking About Rock in an Essay
If you're excited about Sammy Hagar's 'The Best Of All Worlds' 2024 tour, there's so much more to explore in the world of rock music! These essay topics are your backstage pass to dive deeper into the legends, the tunes, and what makes rock music tick. Whether you're a die-hard fan or just getting into the groove, these discussions are a great way to connect more with the music you love. Let's keep the rock conversation going and see where it takes us!
| Essay Type | Essay Topics |
| --- | --- |
| Descriptive Essays | 1. The Evolution of Sammy Hagar's Music Career |
| | 2. A Detailed Overview of the 'The Best Of All Worlds' 2024 Tour |
| | 3. Profiles of Rock Legends: Sammy Hagar, Michael Anthony, Jason Bonham, and Joe Satriani |
| | 4. The Impact of VAN HALEN on Modern Rock Music |
| Analytical Essays | 1. Analyzing the Longevity and Relevance of Sammy Hagar's Music in the Contemporary Rock Scene |
| | 2. The Role of Collaboration in Rock Music: A Case Study of Hagar's 2024 Tour |
| | 3. How VAN HALEN's Music Has Influenced Contemporary Rock Bands |
| | 4. The Significance of Reviving Classic Rock in the 21st Century |
| Argumentative Essays | 1. Is Classic Rock Still Relevant? A Discussion Based on Sammy Hagar's 2024 Tour |
| | 2. The Importance of Live Performances in the Digital Age of Music |
| | 3. Should Rock Bands from the 20th Century Adapt to Modern Music Styles? |
| | 4. The Role of Nostalgia in the Success of Reunion Tours |
| Persuasive Essays | 1. Why 'The Best Of All Worlds' Tour is a Must-See for Rock Fans |
| | 2. The Case for Preserving Classic Rock Music for Future Generations |
| | 3. Encouraging Young Musicians to Explore and Learn from Classic Rock |
| | 4. Why the Rock Music Scene Needs More Collaborations Like Hagar's 2024 Tour |
Related
Follow us on Reddit for more insights and updates.