JOIN OUR LEARNING HUB
One-stop solution for all your homework needs. Get the job done.

✅ AI Essay Writer ✅ AI Detector ✅ Plagiarism checker ✅ Paraphraser
Based on a recent article from 10WBNS, Simone Biles has once again proven why she's a force to be reckoned with in the world of gymnastics.
In a nail-biting selection event held in Katy, Texas, this past Tuesday, Biles edged out fellow gymnast Shilese Jones by a mere fraction, scoring an all-around total of 55.700. Jones wasn't far behind, landing a score of 55.300, while Skye Blakely completed the top three with a score of 55.000. This achievement marks Biles as the first American woman set to compete in six World Artistic Gymnastics Championships.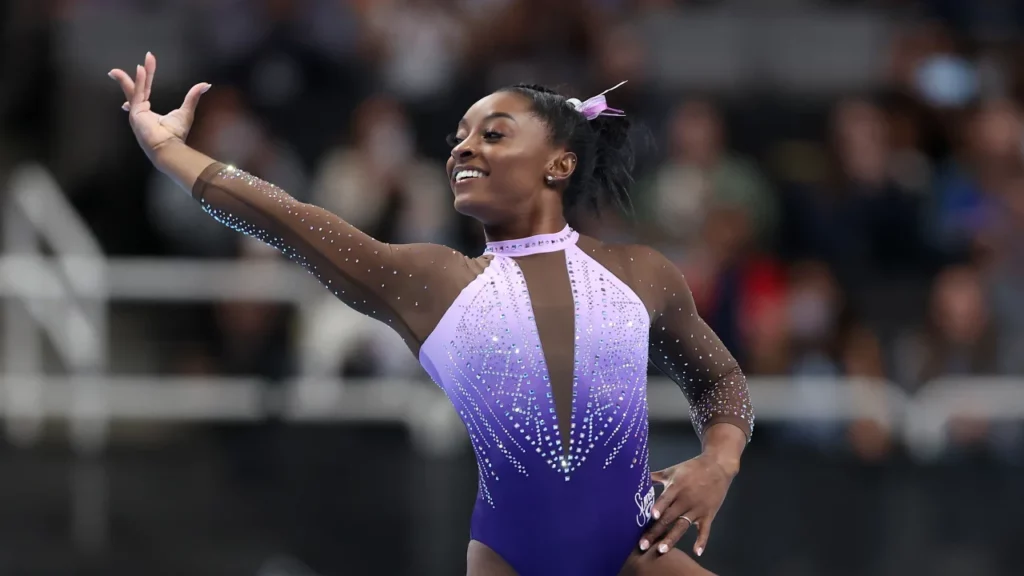 Celebrating her achievement, Biles reminisced about her journey, posting "Back to where it all started, see you soon Belgium" on her Instagram story.
Fans eagerly await the announcement of the remaining five members of Team USA, set to be revealed after Wednesday's competition. Biles has a history of stunning performances in Belgium. She clinched her inaugural world all-around title in Antwerp, Belgium, in 2013, further decorating her medal tally with silver in vault, bronze in the beam, and gold on the floor.
The gymnastics superstar has recently hinted at bigger ambitions. During an appearance on the TODAY Show earlier this month, Biles expressed her intention to participate in the 2024 Olympics.
Having reigned supreme for over a decade since her debut as a teen sensation, Biles has collected numerous titles, solidifying her reputation as perhaps the greatest gymnast globally. However, she's not only known for her unparalleled skills but also for championing mental health in the professional sports arena. Following her public withdrawal from several events at the 2021 Tokyo Games due to the "twisties", Biles took a hiatus of two years to concentrate on her well-being.
Throughout her break, Biles emerged as a staunch advocate for athletes' mental health, extending her support to U.S. skier Mikaela Shiffrin during the 2022 Winter Games. Despite her hiatus, Biles's return in August saw her quickly reclaiming her throne. By the end of the month, she had secured her eighth U.S. Championship, setting yet another record.
The World Artistic Gymnastics Championships in Antwerp, Belgium, are scheduled from Oct. 1-8, where Biles is poised to further etch her name in the annals of gymnastics history.
Discussing The World of Professional Gymnastics
After reading about Simone Biles's remarkable journey, her unceasing commitment to gymnastics, and her advocacy for mental health, many might find themselves pondering the broader implications and contexts surrounding her experiences. Biles's story is not just a tale of athletic prowess but also a mirror reflecting the myriad complexities, challenges, and pressures within professional sports. For those intrigued by these aspects and willing to delve deeper, several essay topics can serve as a starting point to explore and understand the multifaceted world of professional sports.
These topics span various essay types, ranging from narrative to analytical, each shedding light on different facets of professional athleticism, the implications of immense pressure, the importance of mental health, and the overarching structure of competitive sports. Whether you are interested in exploring the evolution of gymnastics, understanding the nuances of athlete mental health, or examining the role of media in shaping perceptions of athletes, these topics provide a structured pathway to expand your knowledge and perspective on these crucial issues.
Essay Type
Suggested Topics
Narrative
1. A Day in the Life of a Professional Gymnast: Following Simone Biles.
2. My Experience at the World Artistic Gymnastics Championships: An Imagined Firsthand Account.
Descriptive
1. The Highs and Lows of Competitive Gymnastics: Painting a Vivid Picture.
2. The Atmosphere and Excitement at the World Artistic Gymnastics Championships.
Expository
1. The Evolution of Women's Gymnastics in the U.S.: Tracing Its History and Achievements.<br>2. The Significance of the World Artistic Gymnastics Championships in the Global Sports Arena.<br>3. Understanding the "Twisties" in Gymnastics: Causes, Impacts, and Management.
Argumentative
1. Should Athletes Prioritize Mental Health Over Competitive Success?
2. The Role of Media in Shaping Perceptions of Athlete Mental Health Struggles.
3. The Argument for Longer Breaks in Professional Gymnastics: Balancing Performance and Well-being.
Persuasive
1. Why Athletes Like Simone Biles Should Be Applauded for Addressing Mental Health Issues Publicly.
2. The Need for Mental Health Resources and Support Systems within Professional Sports.
3. Encouraging a Shift in Perspective: Celebrating Athlete Resilience Over Medals Alone.
Comparative
1. Comparing the Pressures of Professional Gymnastics to Other Professional Sports.
2. Simone Biles and Mikaela Shiffrin: A Comparative Study of Two Sportswomen Championing Mental Health.
Analytical
1. Analyzing the Impact of Simone Biles' Public Stance on Mental Health in the Sports World.
2. The Relationship Between Performance Pressures and Mental Health Issues in Elite Sports.
Related
Follow us on Reddit for more insights and updates.