JOIN OUR LEARNING HUB
One-stop solution for all your homework needs. Get the job done.

✅ AI Essay Writer ✅ AI Detector ✅ Plagiarism checker ✅ Paraphraser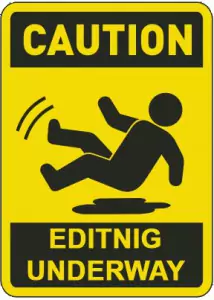 How do you know when you should stop editing a specific piece of writing? One can say it is a matter of taste and discretion, but in actuality, there are rules one can abide by to make sure a composition is not over-edited:
The feeling of the piece of writing should not be lost. It is unfortunate when a composition meets all the technical requirements, yet has no feeling to it.
When trying to make a piece of writing more efficient, don't make it too efficient that it sounds unnatural. Writing should sound smooth or at least expressive, and should be easy to connect to.
You can edit the idea itself of a composition, but make sure the idea is not purely intellectual without feeling. When changing around a whole piece, don't treat it as an adaptation, but rather a new piece with its own expression.
If you have read through your entire piece of writing and have only put a comma back in place that you took out before, for instance, then you should know your time for editing is probably done.
These rules are important to follow, as many great works have been desecrated due to over-editing. One of the worst things to happen to a writer is to have a wonderful, original piece of writing destroyed gradually through the editing process. One has to be alert to the changes during the process of editing to keep the creative spirit alive in a given composition. This is because the spirit of your writing is the real reason people will read your writing. Without that spark, your writing would only be drivel.
Follow us on Reddit for more insights and updates.