As reported by Cochrane Eagle, Rep. George Santos of New York has announced that he will not seek reelection, following a comprehensive report by the House Ethics Committee. The report, which presents "overwhelming evidence" of lawbreaking, has been a significant development in the ongoing investigation into Santos' conduct.
JOIN OUR LEARNING HUB
One-stop solution for all your homework needs. Get the job done.

✅ AI Essay Writer ✅ AI Detector ✅ Plagiarism checker ✅ Paraphraser
The Ethics Committee's findings reveal that Santos knowingly filed false or incomplete reports with the Federal Election Commission, misused campaign funds for personal use, and violated the Ethics in Government Act in his financial disclosures. Despite these allegations, Santos has consistently maintained his innocence and refused to resign, despite numerous calls from his colleagues.
Santos' reaction to the report was immediate and dismissive, labeling it a "politicized smear" in a tweet. However, his decision not to run for a second term indicates the weight of the committee's findings. The committee highlighted Santos' lack of cooperation and accused him of evading requests for information, further complicating his position.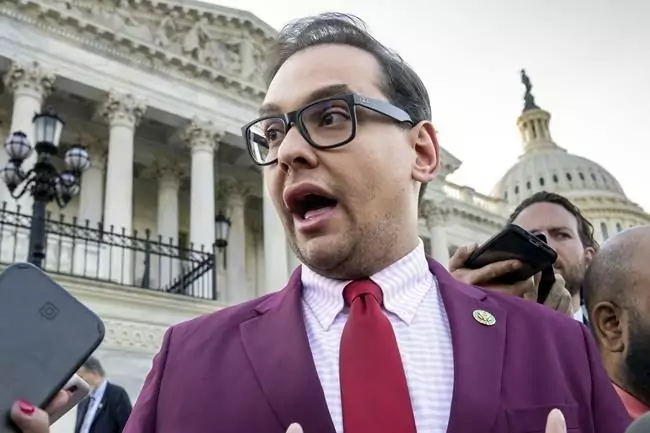 The report also notes that the committee chose not to pursue formal charges to avoid a lengthy public trial and potential delays in accountability. Instead, the full report has been sent to the House, with recommendations for members to take appropriate actions.
Beyond the Ethics Committee's report, Santos faces severe legal challenges, including a 23-count federal indictment. The charges allege identity theft of campaign donors, unauthorized credit card charges, and false statements to the Federal Elections Commission. The indictment claims Santos falsely reported a $500,000 loan to his campaign, attempting to gain financial support from the Republican Party.
Despite these numerous allegations, Santos narrowly survived a recent House vote to expel him. Most Republicans and some Democrats refrained from punishing him, awaiting the outcome of his criminal trial and the Ethics Committee's investigation. This development marks a pivotal moment in Santos' political career, raising questions about ethics and accountability in public office.
Discussing Political Scandals
The story of Rep. George Santos and his ethics scandal is more than just headline news; it's a window into the complex world of politics and ethics. These essay topics are an invitation for you to dive deeper and explore what really goes on behind political scandals. From understanding the role of ethics committees to discussing how such incidents affect the entire political landscape, these essays are your chance to unravel the complexities of political accountability and leadership. Whether you're a political enthusiast or just curious about how these issues impact our world, these topics offer a way to engage with and understand the deeper currents shaping our political reality.
| Essay Type | Essay Topics |
| --- | --- |
| Analytical Essays | 1. The Impact of Ethics Violations on Political Careers: A Case Study of Rep. George Santos |
| | 2. Analyzing the Role of Ethics Committees in Maintaining Political Accountability |
| | 3. The Influence of Public Opinion on Political Scandals and Their Resolutions |
| | 4. Evaluating the Effectiveness of Legal and Ethical Sanctions in Political Governance |
| Argumentative Essays | 1. Should Politicians Accused of Ethics Violations Be Forced to Resign? |
| | 2. The Balance Between Legal Proceedings and Political Actions in Handling Misconduct |
| | 3. Is the Current Political System Effective in Preventing and Punishing Ethical Violations? |
| | 4. The Role of Media in Shaping Public Perception of Political Scandals |
| Descriptive Essays | 1. A Detailed Account of the Allegations and Investigations Surrounding Rep. George Santos |
| | 2. The Process and Importance of Ethics Committees in U.S. Politics |
| | 3. Historical Overview of Notable Political Scandals in the United States |
| | 4. The Legal Framework Surrounding Political Ethics and Campaign Finance |
| Persuasive Essays | 1. Why Stronger Ethical Oversight is Necessary in Modern Politics |
| | 2. The Importance of Transparency and Accountability in Political Leadership |
| | 3. Advocating for Stricter Penalties for Politicians Committing Financial Fraud |
| | 4. Encouraging Public Engagement and Vigilance in Political Governance |
Related
Follow us on Reddit for more insights and updates.