JOIN OUR LEARNING HUB
One-stop solution for all your homework needs. Get the job done.

✅ AI Essay Writer ✅ AI Detector ✅ Plagiarism checker ✅ Paraphraser
ChatPDF and Jenni AI have teamed up, signaling a new chapter in the edtech sector and aiming to offer improved experiences for students and researchers worldwide.
Key Takeaways:
ChatPDF partners with Jenni AI, a leading AI co-writer for academics, aiming to enhance the research experience for students globally.
ChatPDF Plus members gain immediate access to Jenni AI Unlimited, ensuring a richer product experience.
Both platforms aim to transform education through an AI-first approach, anticipating deeper integrations in the near future.
In just seven months from its launch, ChatPDF has influenced the daily practices of students and researchers. This impact is set to expand as ChatPDF announces its collaboration with Jenni AI, a notable AI-based academic writing aid.
ChatPDF's introduction to the academic sphere brought about noticeable changes. It offered users a new way to handle research, emphasizing ease and efficiency. This trajectory, while impressive, is only a segment of ChatPDF's overarching goals.
The collaboration with Jenni AI is geared towards achieving broader objectives. Jenni AI, with its reputation as an AI academic co-writer, will contribute its specialized skills to the partnership. Together, they aim to offer users an improved product experience, combining the strengths of both platforms.
One immediate benefit of this partnership is the access provided to ChatPDF Plus users. They will now have full access to the features of Jenni AI Unlimited. Given that both ChatPDF and Jenni AI cater to millions of users, this partnership promises to offer more than just combined services; it indicates a broader initiative to enhance academic support.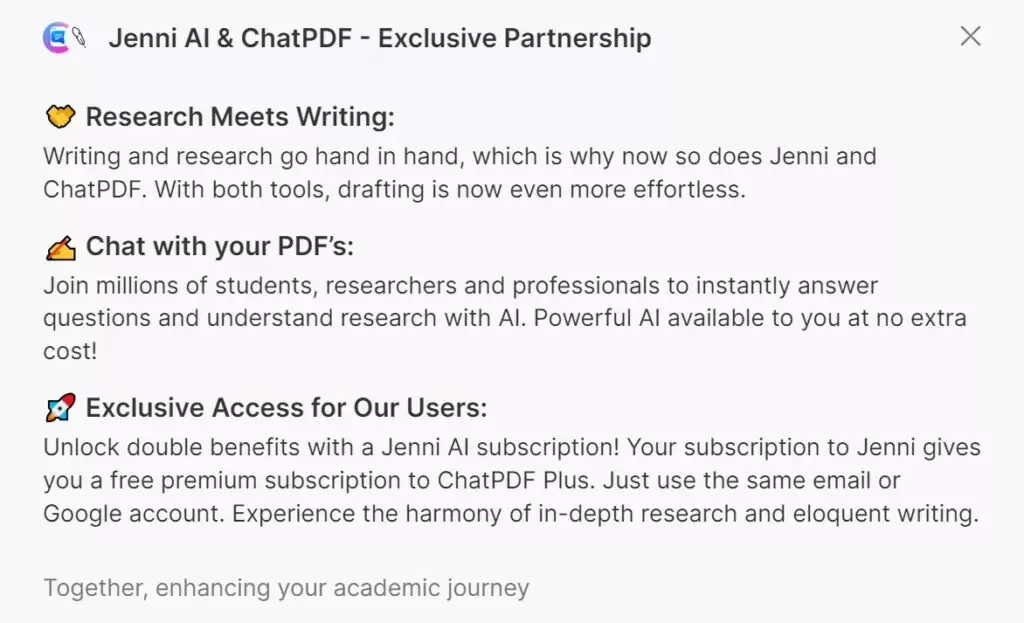 Both ChatPDF and Jenni AI are focused on integrating AI more deeply into educational practices. Although AI has made strides in multiple sectors, its integration in the academic sphere offers vast potential. This joint venture is a step towards realizing that potential, making AI tools a regular feature in academic work. They emphasize that the combined user base will benefit from an enhanced product experience. This partnership also suggests that users can look forward to more integrated features between ChatPDF and Jenni AI, offering a consolidated tool for academic work.
Related
Follow us on Reddit for more insights and updates.