JOIN OUR LEARNING HUB
One-stop solution for all your homework needs. Get the job done.

✅ AI Essay Writer ✅ AI Detector ✅ Plagiarism checker ✅ Paraphraser
Humata AI, a groundbreaking artificial intelligence platform, has successfully garnered $3.5M in seed funding to simplify research processes and expedite scientific discoveries.
Key Takeaways:
Humata AI raised $3.5M from top-tier investors like Google's Gradient Ventures and ARK Invest.
Humata simplifies complex research, delivering instant, context-rich answers from user data.
The funding will fuel Humata AI's tech development and global expansion, enhancing data-driven decision-making for businesses.
Simplified research
In a remarkable advancement for the artificial intelligence sector, Humata AI announced the successful closure of its seed funding round, accumulating an impressive $3.5M. Backed by renowned investors like Google's Gradient Ventures and ARK Invest, Humata is set to redefine how we consume and interpret complex data.
"We are thrilled to have the support of such high-caliber investors. This funding will enable us to accelerate our product development, expand our team, and strengthen our position as a leader in the AI industry."

Cyrus Khajvandi, CEO of Humata AI
Humata AI's platform is no ordinary AI system. Its main attraction is its ability to simplify intricate research publications. With the help of this AI, users can now shoot queries related to their data and documents and receive instantaneous answers. This doesn't just save time but also empowers them to work more efficiently, thereby gaining an edge in their particular industries.
One of the primary benefits of using Humata AI is its potential to streamline knowledge discovery. In the digital age, where data is abundant, making sense of it all becomes a herculean task. Humata aims to help individuals and corporations harness the full power of their data, leading to well-informed decisions.
A milestone in Humata AI's journey, this funding round is a testament to the faith investors have in the company's vision. It speaks volumes about the potential they see in Humata's team, technology, and its alignment with the burgeoning demand for advanced AI tools in the market.
"Humata is like ChatGPT for all your files. You can ask Humata any question about your PDF and automatically get the answer with highlighted references, so you can fact check it and guarantee correctness."
Khajvandi further elaborated on the importance of context in providing answers. He emphasized that while tools like ChatGPT might sometimes provide context-less responses, Humata is designed to cater to complex scientific queries by generating precise answers based on the user's data. This contextual approach has garnered global attention, leading to Humata's adoption in various industries with diverse enterprise needs.
The unmatched efficiency that Humata brings to the table is evident in its ability to swiftly provide answers, complete with references, all derived from the user's data. This could prove instrumental for companies looking to leverage AI to induce operational efficiency, spark innovation, and discover new revenue avenues.
Zach Bratun-Glennon, the Founder and General Partner at Gradient Ventures, endorsed Humata's unique approach. Impressed by the early strides made by the team, he expressed his eagerness to see the company grow. Similarly, Anna Barber, Partner at M13, highlighted the potential of Humata's technology to significantly influence enterprise productivity, facilitating better decision-making across data sets.
"We were impressed with the team's early traction and look forward to supporting them as they grow."
With this fresh injection of funds, Humata AI has charted out its path. The company has its sights set on continued growth, advanced technological development, and expanding its footprint globally. Conceived by Cyrus Khajvandi and Dan Rasmuson, Humata AI stands at the forefront of AI innovation. Its platform, which empowers users to draw insights from multiple PDFs at once, is revolutionizing learning, discovery, and work. As AI technology continues to evolve, Humata AI stands ready to help businesses harness its full potential, opening doors to new opportunities and fostering innovation.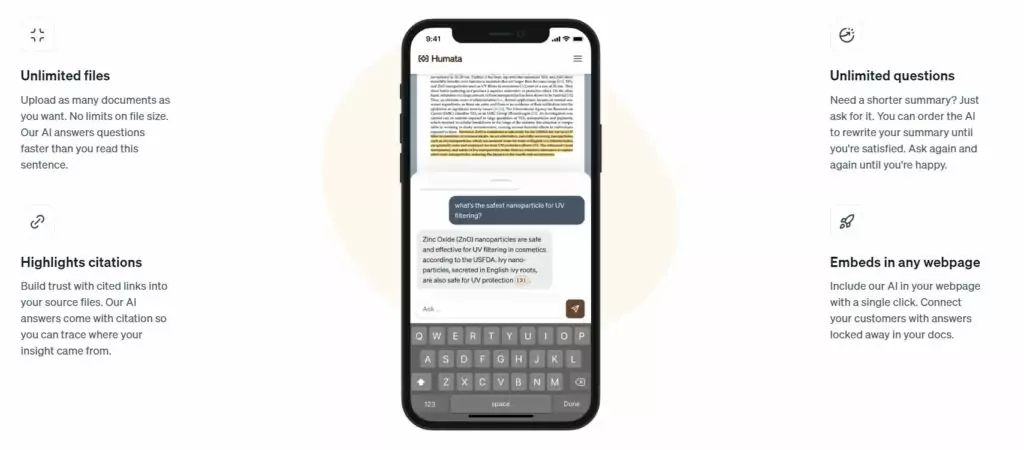 In a world driven by data, Humata AI's groundbreaking platform, backed by significant funding, is poised to transform the way businesses operate and decipher complex information. With a clear vision and robust support, the future looks promising for Humata AI.
Related
Follow us on Reddit for more insights and updates.