Finding an effective online help service for homework and other assignments is a significant win. When that platform offers a discount, it's even better. It's like getting a refreshing popsicle on a hot day. Frugal students would certainly approve.
Quillbot Bonuses Available for Students
Quillbot is a well-regarded platform among students. It's a true definition of one size fits all. Learners can do everything here from polishing grammar and spelling in their essays to summarizing and scanning their papers with Quillbot plagiarism checker. And a user-friendly interface guarantees a top-notch experience.
Being a budget-friendly tool, Quillbot offers discounts. So, students can save a penny if they get themselves on a premium subscription. While the monthly plan costs $9.95, learners can save up to 58% by choosing the annual subscription billed at $4.17 per month. And if premium plans are not your fit, Quillbot offers a 3-day money-back guarantee.
Do you want to work on assignments together with your friends or classmates? Quillbot presents a Team Plan and follows the motto: "The more the merrier." If you invite a group of 5 to 10 people, you can receive a 10% discount on your subscription. Should you bring in more than 50 individuals, you'll secure a substantial 30% off.
Another big plus is coupons. When you register with Quillbot, leave your email address to receive information about coupons.
Here's what you can get with Quillbot:
| | |
| --- | --- |
| Coupons | ✅ |
| Loyalty Program | ❌ |
| Referral Program | ❌ |
| Seasonal Offers | ❌ |
Talking about discounts is all fun and games, but our team at AcademicHelp decided to see it in action.
Since it was our first time using the tool, we took full advantage of discounts and signed up ourselves for an annual subscription. This way we could save $5.78 a month.
| | | |
| --- | --- | --- |
| Original Price | Actual Payment | Amount Saved |
| $9.95 | $4.17 | $5.78 |
We checked Quillbot by conducting a mystery shopping experiment. If you want to learn more about the service and how much it got on A*Help score, check out our review!
Where to Put the Discount on Quillbot
Quillbot's website is a no-brainer and if you choose to go premium with this service, it will not take long to figure out what to do. All users can add the coupons they have right in the payment form. When it is inserted in the right place, click apply and proceed with your credit card information.
Take a look at the picture below for a better understanding.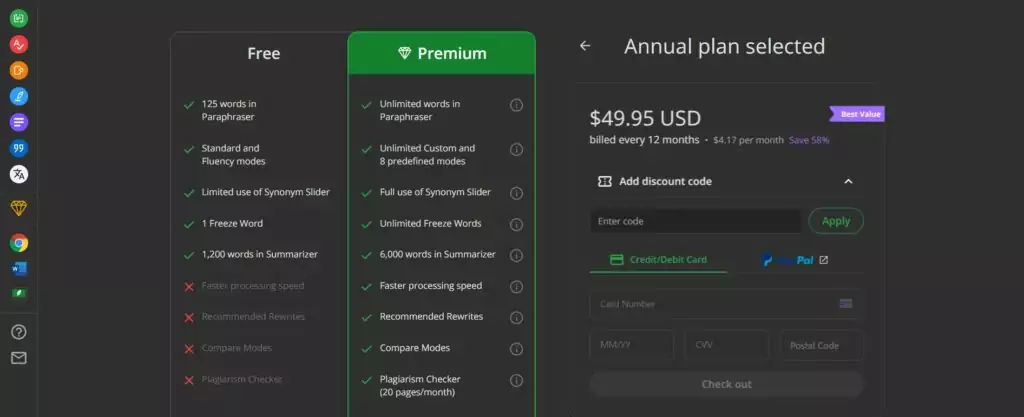 Coming from personal experience, AcademicHelp experts advise leaving your email for newsletters so as not to miss any special or seasonal offers. What to do if you have trouble placing your coupon? Quillbot has two solutions. First, click on the question mark icon on the left where you will find guides for frequently asked questions. Or choose the envelope to get in touch with the support via email.
By and large, discounts and coupons are a great way to make users interested in the service that the company offers as well as to build a rapport. And Quillbot gets the gists and helps students to get better for a good bargain.
Why academichelp.net is a credible source of information:
Stay curious with us. Academichelp.net has been a reliable educational resource since 2011, providing students with the latest news, assignment samples, and other valuable materials. Even with the extensive information we process, our quality remains consistent. Each team member has experience in education, allowing us to evaluate new sector offerings critically. Our reviews are up-to-date and relevant, with impartiality ensured by the A*Help score methodology from mystery shopping. We aren't affiliated with any listed service providers. Our focus remains on providing our audience with reliable and unbiased data.
FAQ
What is the biggest discount on Quillbot I can get?
If you choose an individual plan, the biggest discount is 58% on an annual subscription. But should you invite many people on a team plan, the best you can get is 30% off.
Where can I find a Quillbot coupon?
With Quillbot you can save some cash on premium subscription plans. But if you are specifically searching for coupons, then checking your inbox for promotional emails is highly recommended.
How much can you save on Quillbot using promo codes?
Quillbot is a trusted platform, not to mention that this is the best choice for students money-wise. Every user can save a different amount of money regarding the discounts and coupons they use to work with Quillbot.
Follow us on Reddit for more insights and updates.