Hi everyone.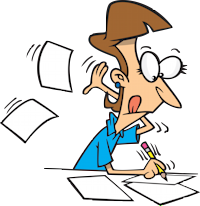 From my college experience, the majority of students tend to do their academic assignments at least the day before the due date, if not on the same day. I won't blab on about how bad this is—when you are young, you have many things that are much more fun than essay writing. Still, studying is studying, and in order to keep your grades up, you've got to be able to accomplish your tasks on time and quickly.
So, I thought "How about pieces of advice explaining how to write some of the most popular types of essays quickly?" It won't guarantee you straight A grades, but at least you'll be able to keep up with the tasks. So, here is some advice on writing expository essays:
A basic essay is only five paragraphs long. For you, this means that all you need to do write a decent expository essay is three sentences. Why three? These sentences are the core ideas for the main body paragraphs that you will expand on, plus one thesis statement.
First, you should find and read the appropriate material. A list of recommended sources is often provided by teachers; if no list of recommended sources is provided, googling the most popular/useful sources on your topic won't take longer than five to ten minutes. Choose sources that match your opinion on the topic. Express this opinion in one sentence—your thesis statement—and write a couple of background sentences for it.
The truth is that you do not need to read through long paragraphs of text to find arguments that would be useful for your essay. To understand what is written in a paragraph, it's usually enough to read its first and last sentence, only paying attention to transition words within this paragraph. Use this technique to find arguments that suit you.
Now about that "you only need three sentences" part. After you select your arguments, rephrase them so they become one sentence long. These sentences will serve as topic sentences: the main ideas for each of your main body paragraphs. Expand on each of these topic sentences in your own words— basically, retell your sources. Mind that any factual information such as numbers, statistics, and so on, should be presented without distortion.
Briefly sum up everything you wrote in three-four sentences; it's usually enough to retell your essay's contents in a generalized way—though showing a synthesis of information presented is better.
Well, this is it—and don't forget to cite your sources!
Follow us on Reddit for more insights and updates.