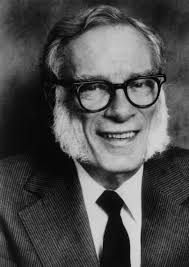 Isaac Asimov is undoubtedly one of the most famous and productive writers in 20th century literature. Not only an author, but also a true scientist, Asimov had a sharp and wise opinion on many problems of his time. Below are some of his quotes regarding writing; as always, it is not just about writing.
"Self-education is, I firmly believe, the only kind of education there is."
"There is a cult of ignorance in the United States, and there has always been. The strain of anti-intellectualism has been a constant thread winding its way through our political and cultural life, nurtured by the false notion that democracy means that 'my ignorance is just as good as your knowledge."'
"Writing is a lonely job. Even if a writer socializes regularly, when he gets down to the real business of his life, it is he and his type-writer or word processor. No one else is or can be involved in the matter."
"I made up my mind long ago to follow one cardinal rule in all my writing: to be clear. I have given up all thought of writing poetically or symbolically or experimentally, or in any of the other modes that might (if I were good enough) get me a Pulitzer prize. I would write merely clearly and in this way establish a warm relationship between myself and my readers, and the professional critics—well, they can do whatever they wish."
"You must keep sending work out; you must never let a manuscript do nothing but eat its head off in a drawer. You send that work out again and again, while you're working on another one. If you have talent, you will receive some measure of success—but only if you persist."
"Jokes of the proper kind, properly told, can do more to enlighten questions of politics, philosophy, and literature than any number of dull arguments."
"Writing, to me, is simply thinking through my fingers."
Follow us on Reddit for more insights and updates.
Samples for Issac Asimov's Quotes on Writing
To give further insight into how to begin writing, what the composition process is like, and how one should edit their work, we have provided a compilation of sayings from ...