AcademicHelp Learning Hub
Use the most powerful academic tools to write better with AI, check for plagiarism and detect AI content!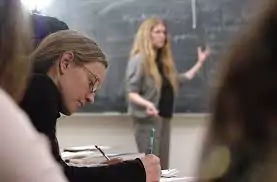 Here are several tips for taking notes while class is in session:
1. Pay attention (and how).
Okay, this is kind of obvious, but even one second of inattention can spoil the note-taking process. You can miss a crucial point and write less important points instead. To keep your attention, instead of remaining completely still, twirl your feet around (silently) or move your fingers by toying with a pen and such. This makes it easier for you to focus, as you will not get as bored during the process of listening to a lecture.
2. Don't write everything down.
Some students go crazy and write everything down that was put on the blackboard and said by a teacher. It is better to develop a filter where you notice the main topics/ideas and jot them down in a casual way. Instead of breaking your hand, you need to focus on and filter the information.
3. Don't write too little.
Sometimes you may feel like writing only a small portion of text for a two-hour lecture. Besides covering the main points, make side notes about the main topics as well. These side notes are kind of like footnotes, which act as commentary to the main notes. They will help you to remember what all the stuff means and why it is important.
4. Write legibly. This is obvious as well, but you have to make a real effort to write well enough so you can read it later. Remember, you might be looking at these notes later in the year for a test or might even share them with your friends.
5. Write the most important notes in a doc. file.
To make sure you have all your notes compiled and can understand them properly, it is best to write all your most important notes in doc file on a computer.
Follow us on Reddit for more insights and updates.