Hi everyone!
JOIN OUR LEARNING HUB
One-stop solution for all your homework needs. Get the job done.

✅ AI Essay Writer ✅ AI Detector ✅ Plagiarism checker ✅ Paraphraser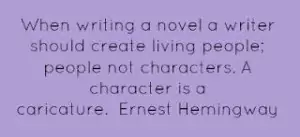 When I browse the Web, I often find articles like, "How to become a better writer," or "Ten easy steps to become a writer," and so on. Although you definitely can find useful pieces of advice on this topic, there is no ultimate, universal formula that guarantees you becoming a perfect writer. Professional development is a lengthy and individual process, and you need to walk it on your own.
However, there is also a list of "don'ts" for any writer. These are typical mistakes many people make, and if you are aware of them, your writing can improve rather fast. Here is the list:
(this is my personal opinion, and other writers might have different don'ts, or not have such a list)
Don't try to write like the authors whom you admire. A copy is always worse than the original, and besides, this is a direct way to remain a second-hand writer.
Don't stuff your head with all kinds of "rules a writer should follow," or "before writing a novel, you should write an outline first." Say what you have to say—this is enough.
Don't be upset about negative feedback you might (and will) receive. You are not supposed to be loved by everyone; definitely, some people will not appreciate what you do. Let it be—deal with it.
Don't ignore negative feedback, however. Mostly, it's complaints of people who never wrote a single line; but, sometimes you can run into a valuable comment, a piece of writing advice, or even critical analysis of your writing—in this case, it is a chance for you to improve!
Don't seek to follow the latest literary trends, like when somebody writes a novel about vampires, and every other writer also starts writing about vampires.
These are the most important "don'ts," in my opinion. Later, I will post some more mistakes that amateur writers tend to make. For now, good luck and enjoy your writing!
Follow us on Reddit for more insights and updates.