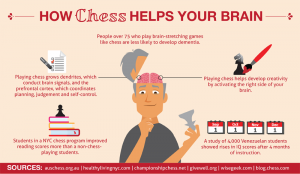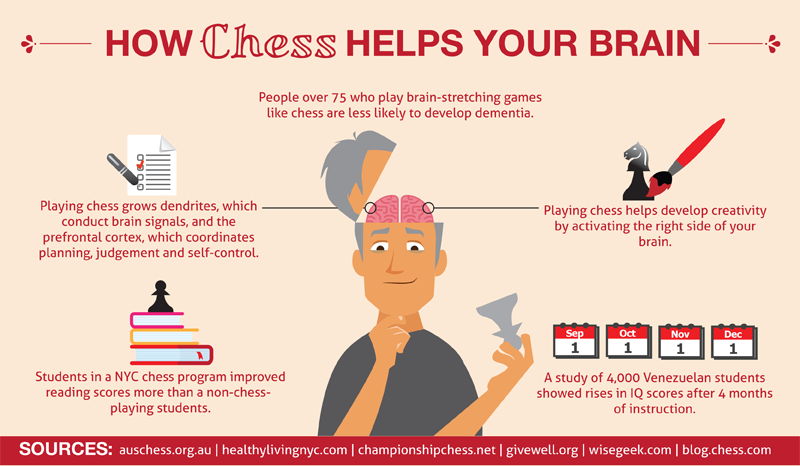 Chess is commonly known as a game (or even a sport) which enhances one's mental capabilities. What most people who do not play chess on a regular basis know is how it is beneficial for the development of one's personality as a well (Croters 56). It provides practitioners with an added interest in education, a social arena where one can feel accepted easily, and increased stamina in regard to attention.
I had been a sophomore in high school without having any close friends other than my twin brother. I suffered from ADD and my grades were rather low in terms of the average. Suffering from depression almost on a daily basis, I had suicidal thoughts.
My father began to teach me chess when I was 16 years old and I played with him regularly, starting from the first day I learned the moves of the game. I began to read books on chess in order to understand how to win against my father. After about two months of studying chess books, I prevailed against him. I was ecstatic to win against my father in chess – part of it was being better than my father at an activity – another reason was I was delighted to discover how studying itself was worthwhile.
Through my interest in chess, I gradually became a better student in school and my grades began to normalize and even exceed expectations. I found I enjoyed the act of studying, as I knew what benefits I would reap from it. I enjoyed the process of constantly improving, and wanting to achieve a certain mark. Even though in those days I probably spent more hours playing chess than on my schoolwork, I found a new joy for education.
After joining my high school chess team, I befriended a number of individuals who were influential in reshaping my personality. They were not ruffians who hit mailboxes with baseball bats at night – they were valedictorians and those who challenged their minds as if it was a sport. They taught me I could learn and have a splendid time simultaneously.
As a student with ADD, playing constant chess truly sharpened my attention. In tournaments, we had to play at least two hours per game in sometimes five-game sets. Outside of tournaments, some games I played lasted five hours or longer. This practice surely reversed my weakness in attention. Before playing chess, it was difficult for me to sit in a chair for over five minutes without fidgeting. After becoming a tournament chess player, I could sit for hours without barely moving, contemplating the 64 squares and the course my arsenal would take.
After achieving the level of a national master in chess, I can safely say chess has given me an educational direction, an increase in social activity, and a cure for ADD. Though chess may be seen as a mental sport, it has been a catalyst which has transformed my personality.
Reference
Croters, John. Chess as a Tool for Personality Development. New York: Richter Books, 2005. Print.
Follow us on Reddit for more insights and updates.
Related Writing Guides
In a reflective essay, you need to express your thoughts and emotions about certain events or phenomena. Writing this type of essay provides solid training to sharpen your critical thinking skills, as well as your ability to develop and express op...