As a student, you just can't escape the deadlines. And at one point you just miraculously wind up with 3 different papers due at the same time. What's your next move? Most of the time students start panicking, trying to do every task at once, and coming up with half-completed half-quality assignments. However, there's another way.
Luckily, there are platforms that can help you complete your academic tasks. And as pressing deadlines don't wait, neither should you. So we drew up a list of those services, that can get your order done quickly, and maybe even before the estimated due date. You can also have a look at our buying guide. As we want to be objective and consistent with our judgments, we compile the ranking based on our experience and the A*HELP scoring system.
How do we Know What's a Quick Essay Help and What's Not?
To get a clear idea of the services, our experts conduct mystery shopping and place orders with every academic writing platform we review. We then analyze our observations against a list of factors. Value-for-money ratio, overall experience, and paper quality are the main objectives of this research.
Our assessment also includes complementary features, such as the order placement process, communication with support and writers, and, most importantly, the ability of the service to keep up with the estimated time limit. We ask for academic help with two tasks: a 2-page essay to be done in 6-8 hours, and a memo to the CEO to be prepared in 7 days. Thus our first-hand experience allows us to make assumptions about the pace of order completion by the best essay writing services. You can read more about our testing scenario here.
Most Rapid Essay Writing Service According to the Review (2023)
After the analysis of our top picks for emergency academic help, we have come to the conclusion that the best platform to make an urgent essay order is EduBirdie.com. Not only does the service stick to the target date, but also accelerates them by more than half the time. It's the best choice for those, who need their writing done quickly and efficiently.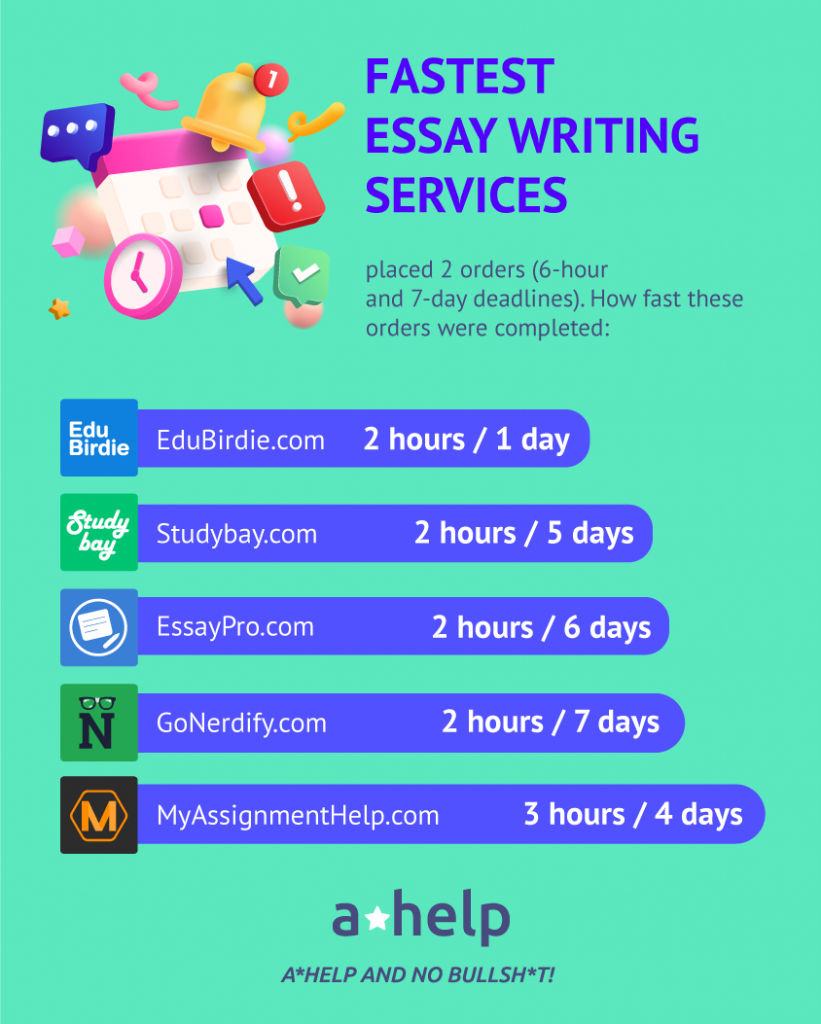 Top List of Urgent Essay Writing Service Platforms
According to our Mystery Shopping Reviews, we can nominate the following 10 essay-writing platforms as the quickest academic help providers:
1

EduBirdie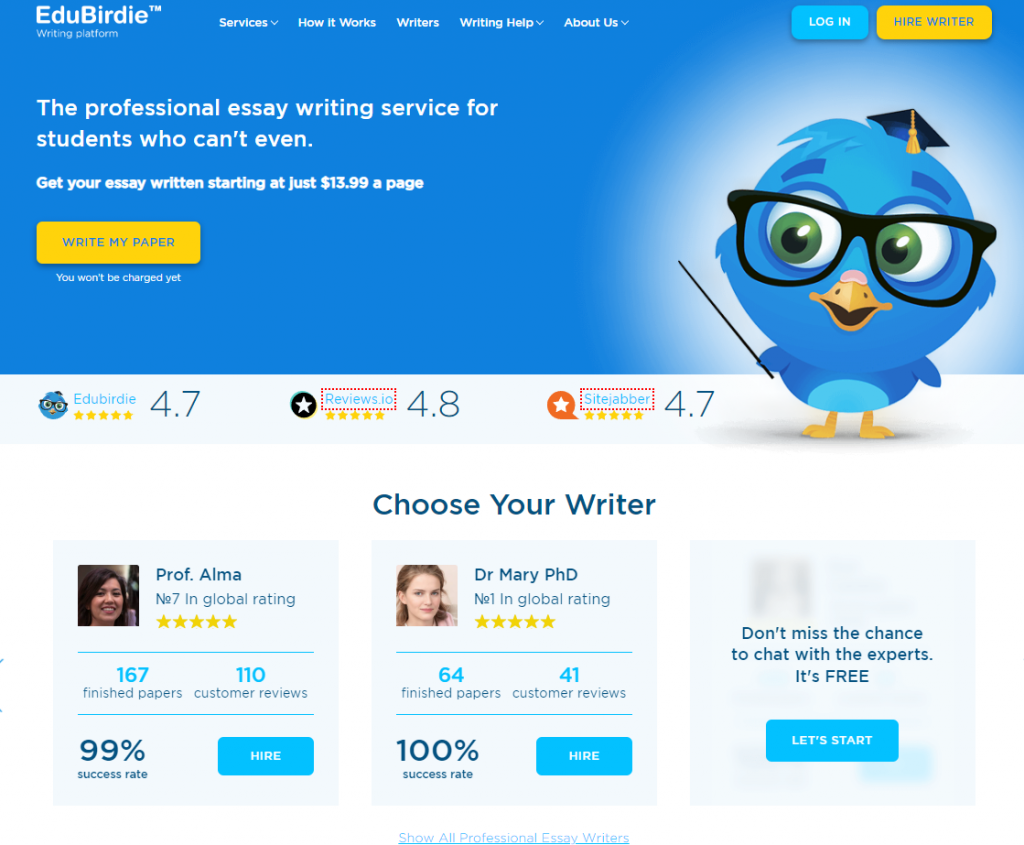 A professional writing service founded back in 2015, EduBirdie seems to receive a stable flow of orders. It has established itself as a versatile solution for those who need help with any type of work from essays to case studies and term papers. Besides, being in the mid-price range, the platform ensures to give its customers the most top-notch papers.
In terms of order time frames, EduBirdie's policies are clear: the minimum deadline is 3 hours and the maximum is 60 days. They also offer free revisions. If your essays are up to 10 pages, corrections can be done within 14 days after your payment. With tasks exceeding the 10-page limit it takes 30 days to do a revision.
For our two orders, we didn't expect to receive them back as quickly as we did. EduBirdie beat our 6-hour deadline by 4 hours. And the task that we expected to get in 7 days came to our inbox just 24 hours after placing the order.
It's worth mentioning that, in accord with Edu Birdie review, this platform is not at the top of our A*HELP general rating. It has proven to provide a great overall experience and high paper quality, resulting in a score of 77.15/100 pts.
Still, such lightning speed is what makes us rank the service the highest on this list. You may see that many reviewed services have similar results to the first paper. However, neither one of them completed the second essay any sooner than EduBirdie.
2

StudyBay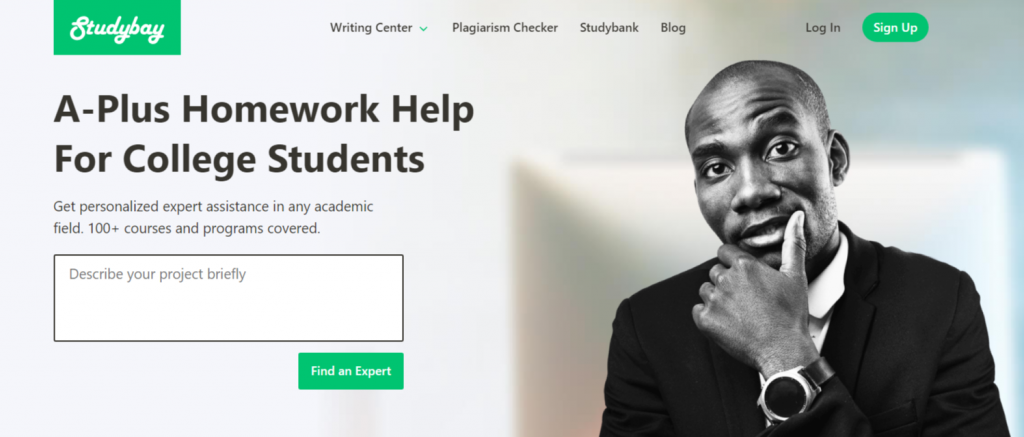 Ever since StudyBay's launch in 2013, it has been gaining popularity as a go-to affordable academic help service for many students. Its bidding system allows customers to choose the most qualified writer to complete their assignment. Thus Studybay ensures the most satisfactory outcome for its clients. However, is Studybay legit?
This service ranks among the top performers on our record with a general A*HELP score of 82.43/100 pts. Moreover, it received the highest score on our overall experience scale which includes customer support, security, and availability of payment methods — 25/25.
StudyBay claims to have an 8-hour minimum deadline. So, we placed our first order to match this time frame. We received the task 4 hours before the agreed time. We also ordered the second paper with a 7-day deadline and were happy to get it 2 days earlier. This leaves enough time to request a revision, which can be done in 10 (or in some cases 20) days. With that promptness, you will have an opportunity to submit the final version of your essay even before your own initial due date.
As a result, the service proved to be not only efficient but also speedy. StudyBay outdid itself in terms of deadlines and earned its rightful second place on this list.
3

EssayPro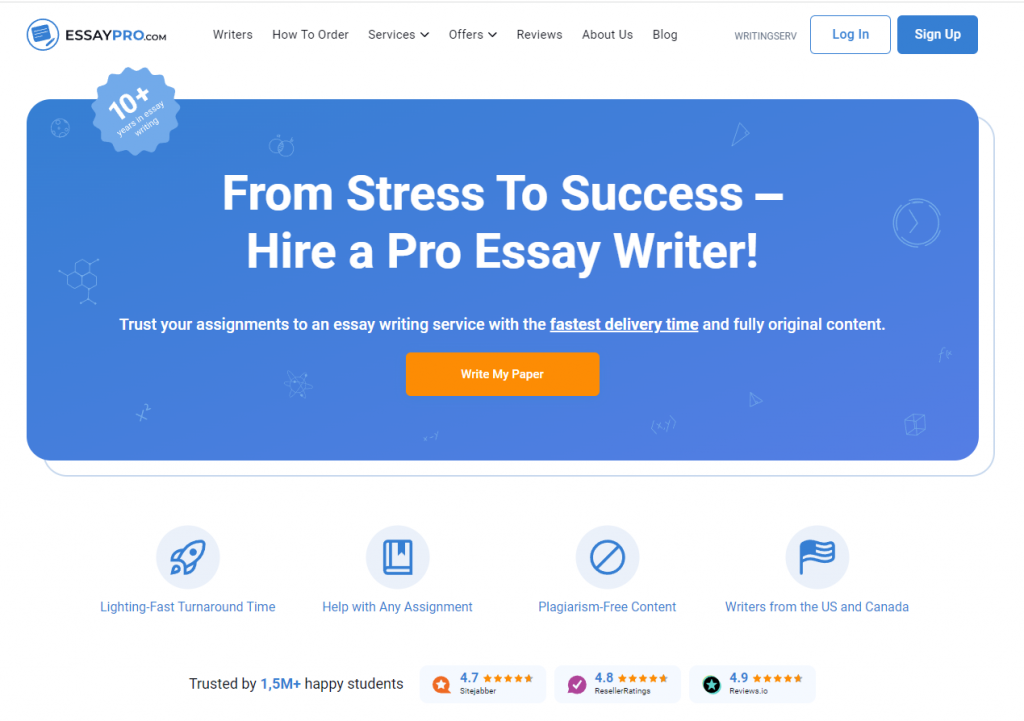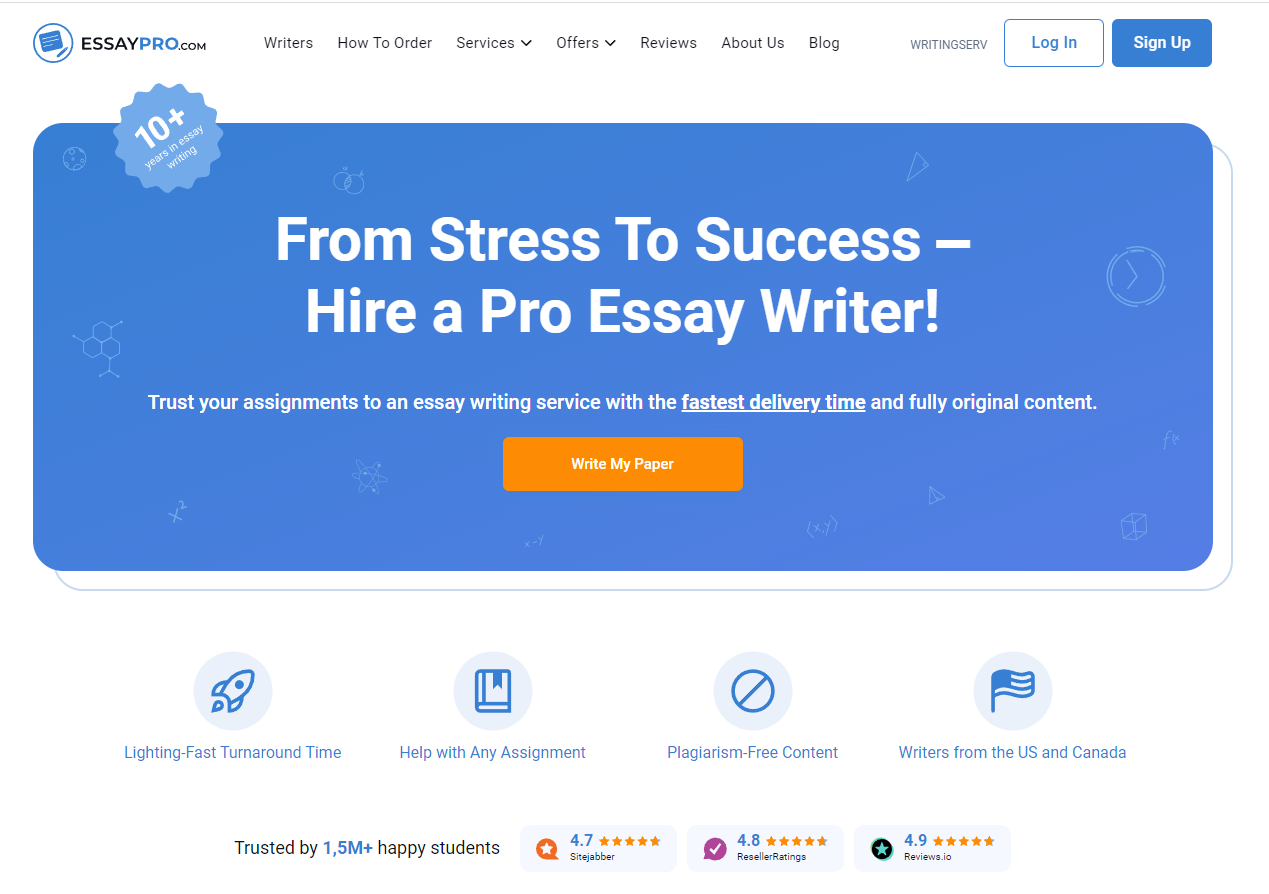 One of the top-rated essay writing services, Essay Pro reviews show it to be the king of most affordable prices in this market. A low-budget approach and fresh marketing techniques bring the platform the popularity it strives for alongside a long list of potential customers.
EssayPro's great overall experience score (24/25) and its paper quality results (37.1/50) landed this platform 77.1/100 pts on an A*HELP scale. Some points were taken off due to the lack of additional services and quality issues with one of their papers. However, the deadlines are not on this list of flaws.
EssayPro offers a minimum order time of 6 hours and a maximum of 60 days. They also offer revisions that can be requested within 14 (up to 10 pages) to 30 days (more than 10 pages).
Our papers came in 4 hours (personal essay) and 1 day (memo to the CEO) earlier than we had expected. These results are hardly worse than those of the already reviewed services. Such outcomes, with the consideration of other features, support the general score as well.
It seems that EssayPro doesn't face any problems sticking to the deadlines. Even more than that, they leave some more time for their clients to familiarize themselves with the tasks and evaluate their quality.
4

EssayUsa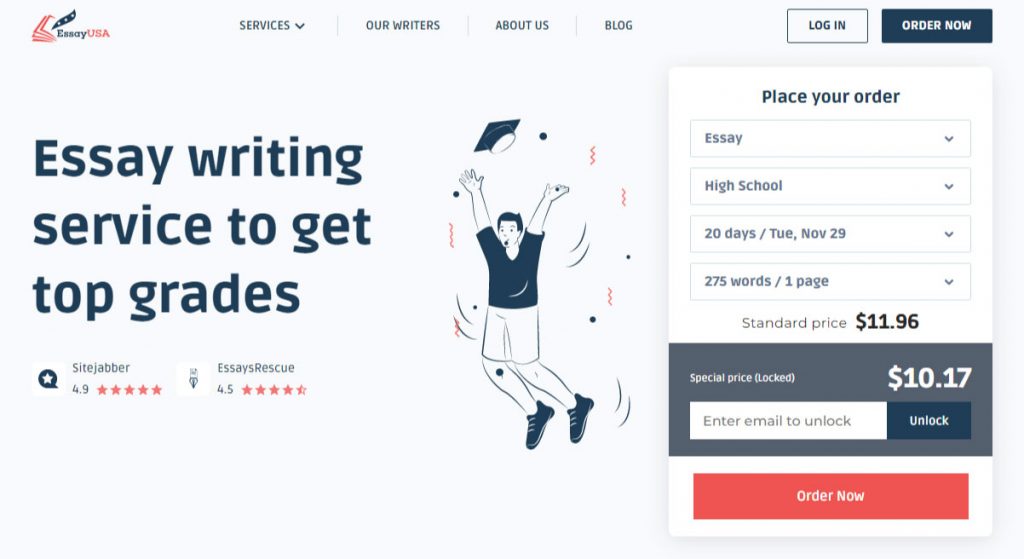 EssayUsa is a young but ambitious platform that provides its customers with affordable help on academic tasks of any complexity. So, it doesn't matter whether you need a lab report or a graduation thesis – these writers claim to know how to figure that out.
Despite being a newbie in the market, this platform got one of the highest scores according to the A*HELP methodology – 88/100 pts. Their strongest point turned out to be paper quality (42/50) – one of the best results in the rated category.
The service offers a minimum deadline of 1 hour and a maximum of 30 days. It also provides quick revisions that can be done at any point of the writing process, or within 10 days after the order's approval. If a paper is longer than 20 pages, then corrections can be asked for within 14 days upon approval.
EssayUsa is yet another platform that completed our assignments even earlier than anticipated. As well as some services, it took them only 2 out of 6 hours to write our personal essay. The second paper, a memo to the CEO, however, was only 2 hours earlier than the requested date.
As such, this great quality essay writing service came 4th in our rating of the quickest platforms in the field. So if you need a fast essay writer to effectively complete one of your tasks, don't hesitate to consider EssayUsa.
5

Nerdify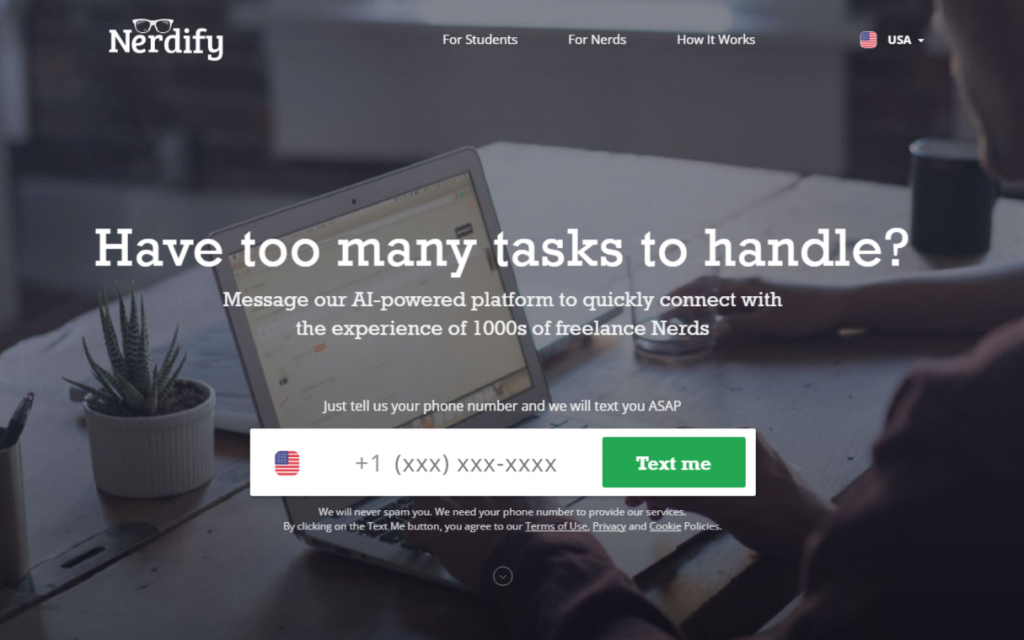 40min before the deadline
Since its launch in 2015, GoNerdify got everybody talking about its AI-powered approach to connecting with customers. The service also draws attention thanks to its unique system of communication with expert "nerds" right through messengers rather than using traditional channels, like website chats or emails.
GoNerdify is the only platform that doesn't set strict minimum and maximum deadlines. It claims to get work done within any time boundaries. It also has the longest period among the other reviewed services to submit a revision request – 30 days.
With this in mind, we placed our two orders with regular deadlines, one of 6 hours and another of 7 days. As with other above-mentioned services, here, the first essay came ready in 2 out of 6 hours. On the other hand, we should note that the second paper wasn't so special and got done just on time.
According to our A*HELP ranking, GoNerdify is a service in a middling position with 76.83/100 pts. Taking this alongside other facts into account, we can say that the platform is most likely to serve you not only well but also quickly.
6

MyAssignmentHelp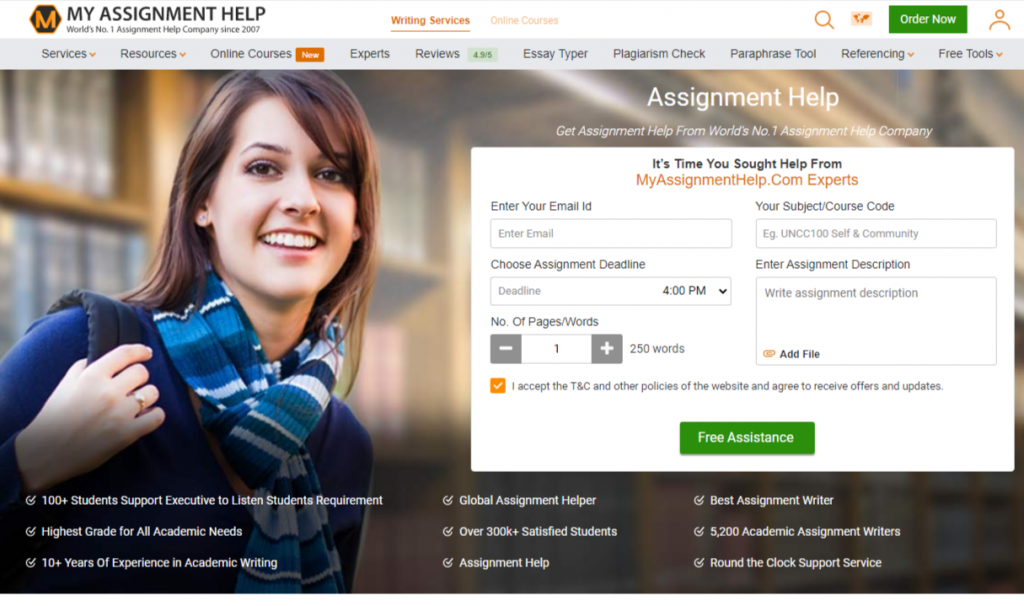 MyAssignmentHelp is a great option for those who aim to get quality papers at bargain prices. Being in the industry for quite some time, the platform has created a widely recognized brand name. It also lures in more and more customers with its varied pool of services and discounts.
Having applied our A*HELP methodology, we have rated MyAssignmentHelp as high as 80.88/100 pts. This mark takes into account everything from average paper price to support team activity and paper quality. Deadlines are not an exception as well.
The service has a 1-hour minimum deadline. It doesn't limit its customers to set a maximum due date – it can be any time they need. A revision process should be asked for within 45-90 days of receiving the order.
Our experience showed, that MyAssignmentHelp is doing a great job at sticking to the requested time frames. Our first task, an essay, was ready 3 hours prior to the deadline. The second paper, a memo to the CEO, got done in 4 out of 7 supposed days. This timely performance leaves enough time to ask for corrections and get your assignments ready even before the original due date.
With these results, MyAssignmentHelp lands in the 6th place on our list, which, however, doesn't make it any slower.
7

CheapestEssay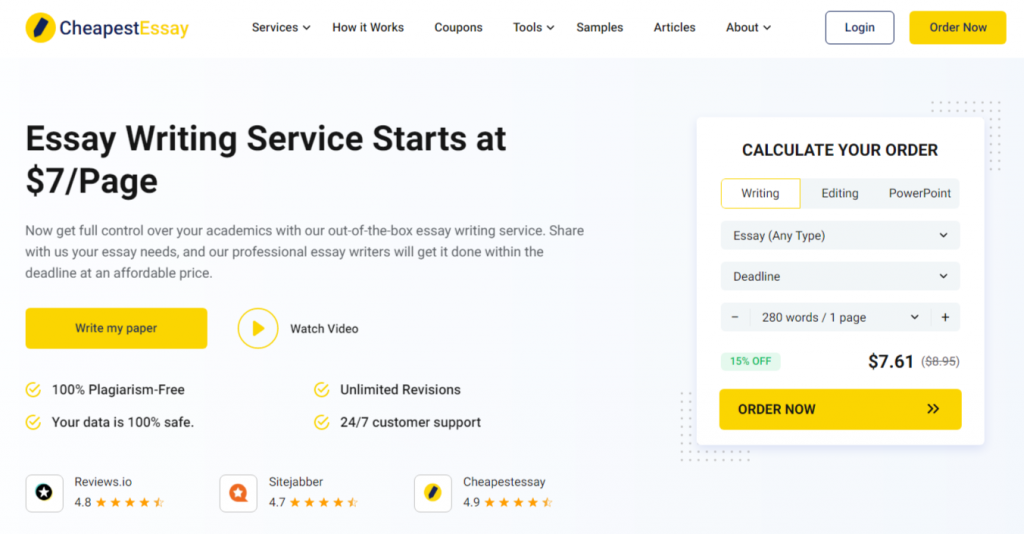 This is a low-budget academic help platform, that started way back in 2014. CheapestEssay provides services for those who feel stuck with their academic life.
It claims to work fast and deliver assignments in as little as 3 hours. The longest time frame you can set here is 20 days. They also offer timely revisions, which should be requested no later than 14 days after the delivery. For longer assignments like dissertations and thesis papers, this period is prolonged to 30 days. Mind also that minor changes can be done in 48 hours.
With our essays, CheapestEssay has proven to follow its own time frames. Our 6-hour assignment was done in 3 hours, thus showing the minimal stated deadline to be true. The second paper, which we had expected to get in 7 days, came 3 days earlier.
CheapestEssay showed that the combination of low prices, quality papers, and timely delivery is a real thing. With the A*HELP score of 77.73 and rapid performance of the tasks, this service deserves its 7th place on our list of the fastest platforms.
8

SpeedyPaper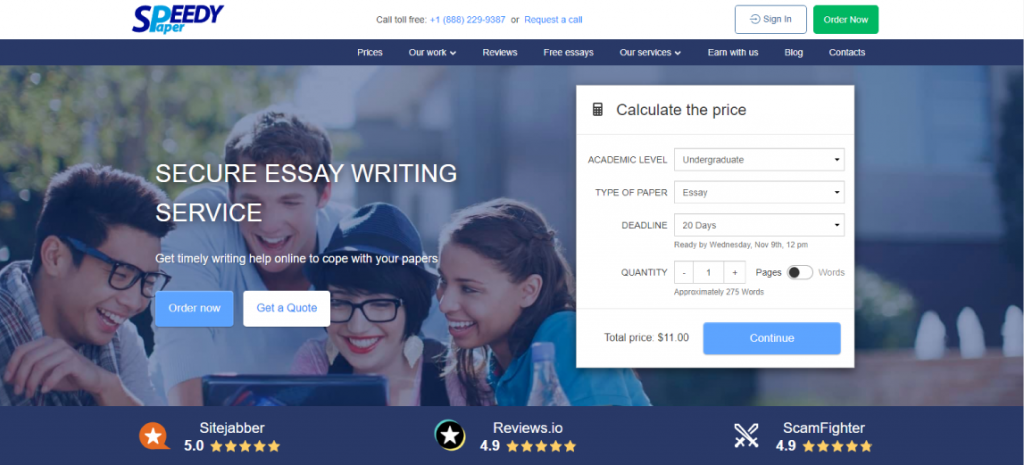 SpeedyPaper is a long-established name in the field of essay writing. But is SpeedyPaper reliable? If students seek fast and quality academic assistance, can they get it here?
The service has shown to have a high A*HELP score of 81.95 pts with one of the best results in paper quality — 42.95/50 pts.
As for the platform's time limits, it offers a minimum deadline of 6 hours, and a maximum of 20 days. The first paper we ordered beat the initial due term by 2 hours. The second task was ready 3 days in advance.
SpeedyPaper completed our assignments earlier than expected, giving us enough time to use its option of 3 free corrections before the task's approval. So, we not only managed to get the papers on time but also made them as accurate as we wanted them to be.
Based on our experience and evidence, this service just couldn't be excluded from the club of the fastest essay writing platforms.
9

CustomWritings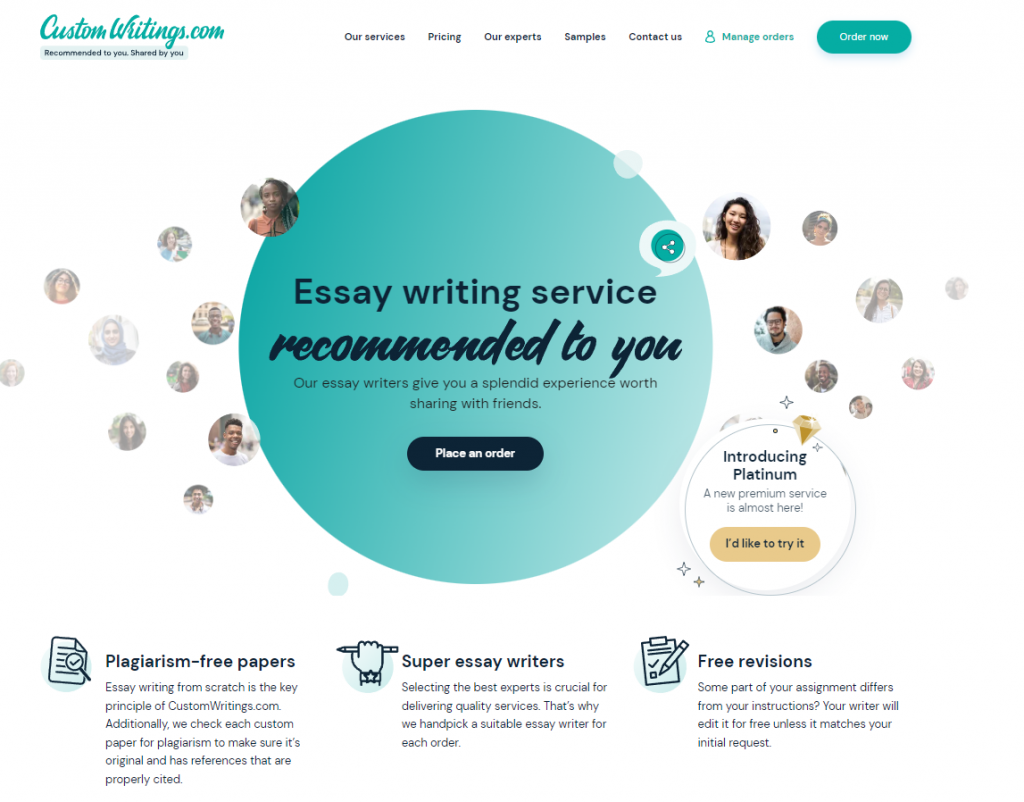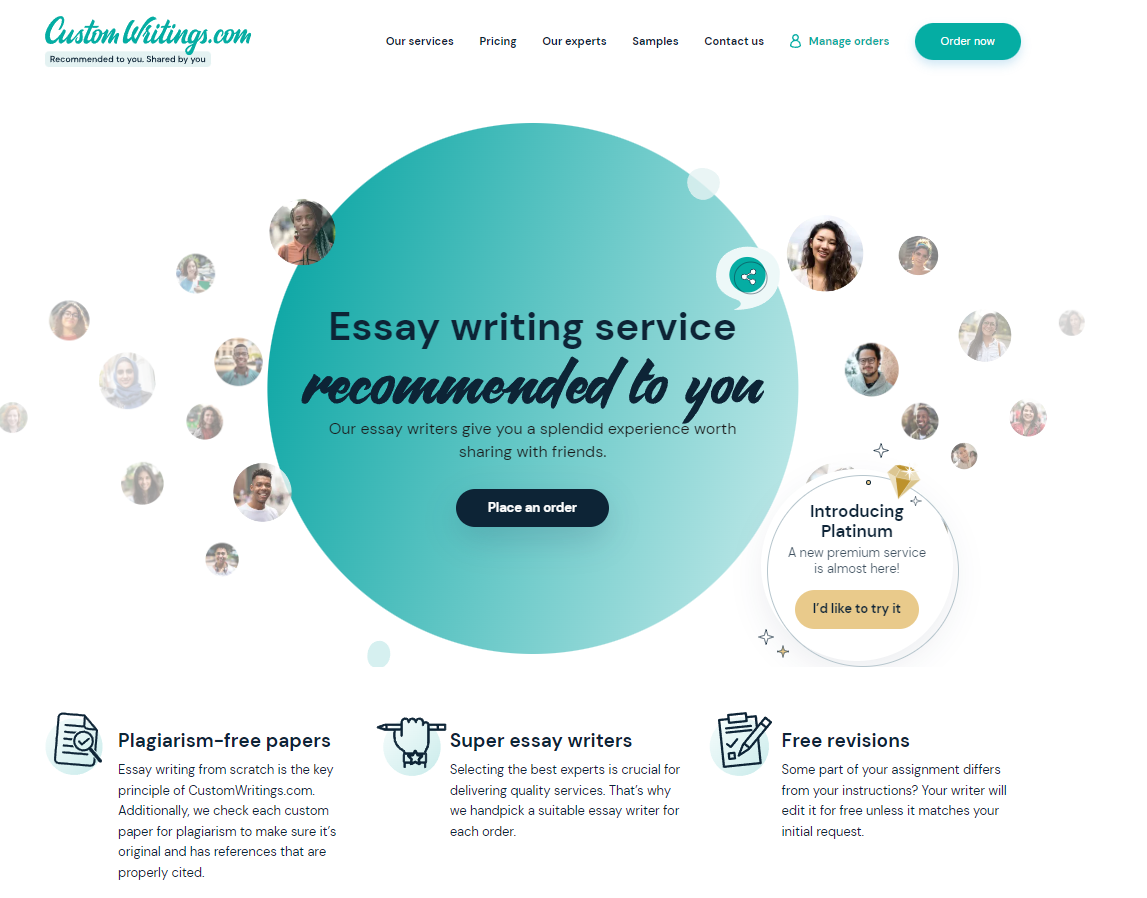 Does 15-year industry experience sound reliable to you? Right, CustomWritings is just that website. Unsurprisingly, the service offers its expertise to those who need the most help — to customers with daunting academic assignments and papers.
The service sits at the top of our A*HELP ranking with 86.75/100 pts. Value-for-money ratio, overall experience, and paper quality — it scored high in almost every aspect we reviewed.
We also checked the time frames offered by the platform. We found that CustomWritings.com can complete assignments as fast as 4 hours. The longest deadline you can opt for is 14 days.
Our experiment has proven that CustomWritings is an efficient service. The first task we requested was ready 2 hours earlier. The second writer completed his order 1 day ahead of the deadline.
Even though not the fastest, Customwritings still has shown to be productive. It takes effort to deliver such high-quality papers even earlier than the requested dates.
10

EssayShark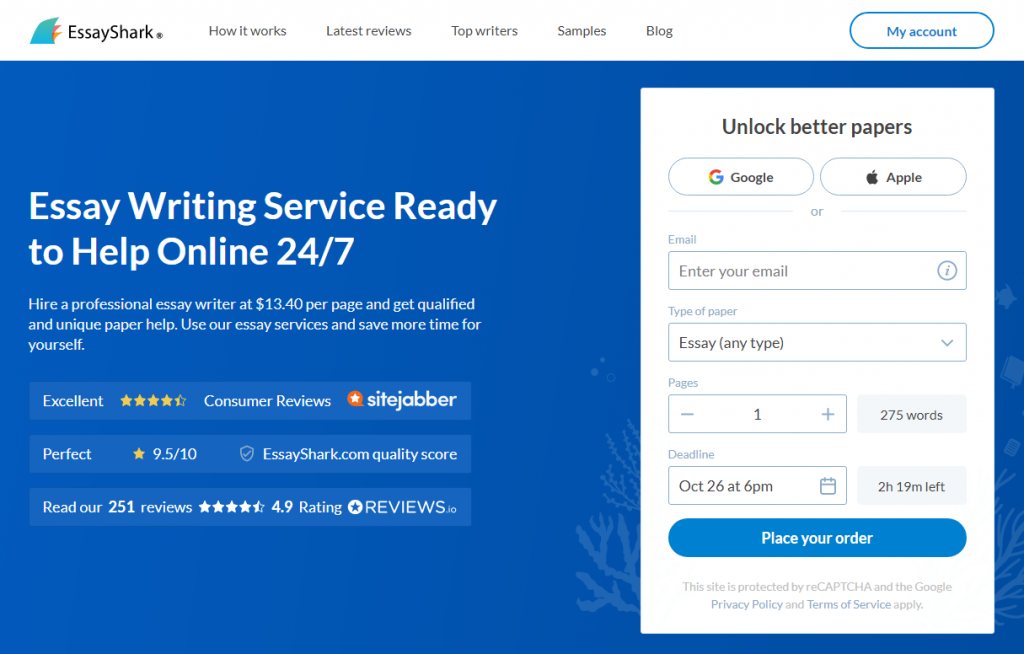 Last but not least, we have EssayShark.com. This website provides its clients with a bidding system that helps select the most suitable expert for their academic needs.
In our ranking system, this platform acquires the general A*HELP score of 70.8 pts. This result reflects all of the service's features, including the ability to stick to deadlines.
The platform has quite common time limits. 3 hours is the minimum target time. There's no maximum deadline though. Customers are free to set their due date as far ahead as they wish.
However, our orders came even beforehand. The essay was sent to us 2 hours in advance. As for the memo to the CEO, we received it 1 day earlier than expected.
Overall, despite coming last on our Top-10 list, EssayShark is still fast enough to deliver quality papers prior to the required deadlines.
The Choice of a Quick Essay Writer Provider: Summary
They say don't judge a book by its cover. Following this wisdom, we try our best to provide a comprehensive review of all of the services we include in our list. Our ratings are compiled according to our own experience and a checklist of must-have features, as we try to give customers true and unbiased information. We hope that these reviews will prove to be helpful and ease up the process of decision-making for those who search for the fastest academic help providers.
Here is our testing scenario:
Paper
Personal Essay (2 pages)
Business Memo (4 pages)
Academic level
Undergrad. (yrs. 1-2)
Undergrad. (yrs. 3-4)
Paper format
MLA
Chicago / Turabian
Deadline
6 hours
7 days
Paper instructions
For this assignment, you will be writing a personal narrative–a story–illustrating an event or experience exemplifying gratitude. In other words, share a colorful story about an experience or event for which–either during or after the event– you feel or felt thankful. An example might be writing about your experience as a senior in high school and the teacher who helped you to achieve your goal of graduating and attending college. Another example might be writing a story about your experience growing up in a rural community, acknowledging that it was this small, but mighty, community that made you who you are today, and for this, you are thankful. This assignment should be at least 550 words. Underline your descriptive thesis statement or the point of your story. No outside/secondary sources are needed. See Appendix C – Formatting and Submitting Your Work See Formatting your Essay: MLA 8th Edition
You are the Government Relations Director at a Canadian business. You have been asked to write a memo to your CEO about COVID-related government impacts on your business, comparing two provinces in which you operate. Your assignment is to write & submit this memo Your Task:
1. Choose a specific business you work in (Air Canada, Loblaws, 3M Canada, etc).
2. Choose two provinces to compare for your memo.
3. Research both provinces – what restrictions were in place in both provinces that affect your business? What supports are in place?
4. Write a memo in three parts: (1) how COVID is impacting our business, (2) a comparison of two provinces, (3)reflections on Canadian federalism and any recommendations for the CEO on how to work with governments to lead your business through the crisis
Comprehensive service reviews provide an impartial view of all aspects of its business. Although these articles are beneficial in terms of the breadth and depth of information they offer, some readers may be interested in more specific aspects of the service provider's quality. In particular, if you're wondering about the companies with the fastest performance, you should have a clear set of criteria in mind and focus on content directly relevant to those criteria. We're narrowing down the search to determine the factors you should focus on and become more mindful of what's essential when it comes to the speed of writing companies' work.
Deadline Policy
Obviously, the company's deadline policy is the first thing you need to pay attention to when it comes to the time of the task completion. The time it takes for services to finish an order can range from a few hours to as long as two months. Some companies indicate the minimum time for writing a paper as one hour, leaving the maximum deadline up to the user. The most common option, however, is the plan that allows a minimum of 3 hours and a maximum of 14 days to complete an order. This duration is generally sufficient to finish the work ahead of time, except for extensive and time-consuming writing projects where the deadline is chosen individually in each case.
Deadlines are specified in the value-for-money paragraph of our reviews.
Revision Regulations
Another issue affecting the term of the contract with the writing service is the company's policy on editing finished papers. All companies offer this possibility, and customers should enjoy benefiting from it. The variations lie in the conditions of the revision process, particularly in the number of revisions allowed and the timeframe within which users can request them. Some services only provide a few free amendments, while others have no restrictions. Nonetheless, the majority of providers specify a period during which users can request revisions after approving the paper. Typically, companies are generous and allow around two weeks to 40 days. If no revision requests are received during this time, the order is considered permanently closed. Therefore, understanding the service's revision regulations is important.
The description of revisions can be found in the value-for-money section of our reviews and on the websites of essay writing providers.
Responsiveness of customer support
Customer support service often plays the leading role in a successful shopping experience. Effective and responsive support can significantly speed up the process by addressing any issues or concerns that customers may have in a timely manner. Quick and helpful reactions, resolving issues promptly, and providing support throughout the process are valuable features that enhance the user experience and reduce the time from placing the order to receiving the paper. Some companies cherish their clients so much that they can even receive a discount or a coupon for future purchases directly from their support specialist. A writing service customer care is perfect if it's helpful, available 24/7, and can be reached through an on-site chat, telephone, and social media. There are providers, however, that prefer communicating via email. This type of customer support is less effective. It doesn't contribute to swift and smooth shopping, often causing frustration and insecurity.
See the overall experience part of our articles for more details.
FAQ
How can I improve my essay fast?
There are a lot of tools that can help you advance in your writing, it only depends on what kind of improvement you need to make. There are online services that offer grammar, punctuation, and plagiarism checks. Some websites can help you rephrase your sentences to make them more appealing and professional. You can also concentrate and look at the writing yourself or give it for a quick peer review to your friends. However, if you are in desperate need of a professional opinion, you should turn to academic services for help. You can use our A*HELP reviews to decide which one will be the most suitable for you.
Can I write 2000 words in 2 hours?
The short answer is yes. If you put in the effort and knowledge, 2 hours is enough to write a paper of this volume. Nevertheless, sometimes your expertise is not enough, and then we feel stuck with no idea where even to start. In this case, academic help platforms are a great fit. They can give you a sense of direction for your assignment and outline the main points. You can browse some of the platforms mentioned on this list, as they are the ones that can do your tasks the quickest. Be sure to check the minimum deadline time though, before placing the order with any of them.
How can I get my essay done fast?
Nothing can be done without your effort. And if you need something done fast, you just have to carry that through in one sitting. The more you stall, the more time you spend on that one piece of writing. Of course, you can have a bunch of other stuff to do instead of working on that essay. We understand that and that's why we try to find useful and reputable services to help you with your academic struggles. When you want your assignment to be finished faster, just put it for a minimum time frame on the website. Thus you can be sure to receive it as soon as possible. And if you place your order with one of the platforms mentioned above, you are even more likely to receive your work much earlier.
How can I do an essay in an hour?
You can sit down and do the whole thing for one hour straight. Is it realistic? Only if the essay is not too long and you have a vast knowledge base. Being into writing would also be a great plus in this situation. And, naturally, you should have an hour of free time. Sometimes, we don't have some of those things, sometimes all of them. That's when essay writing services may come in handy. Browsing through some of the most popular platforms you will most certainly find the ones that can do urgent 1-hour tasks. Some of these platforms were mentioned in this review as well, so be sure to double-check the info above.
Follow us on Reddit for more insights and updates.